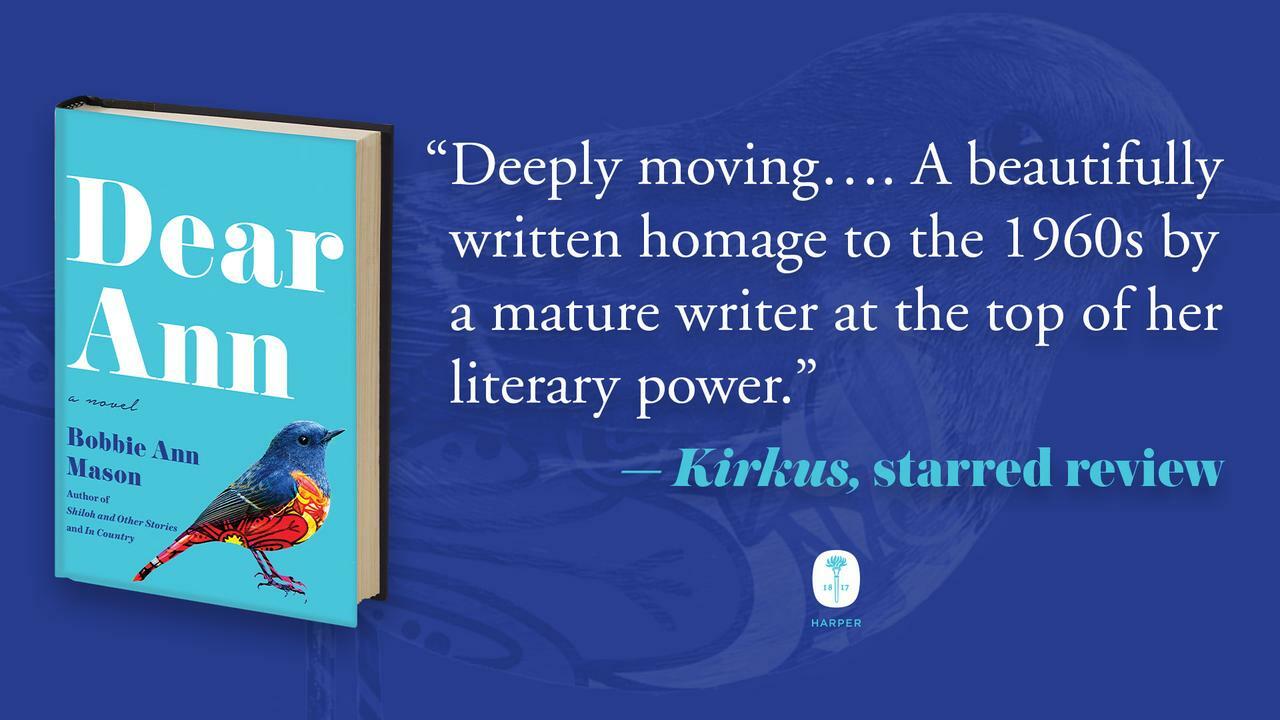 Order Dear Ann:

https://www.harpercollins.com/products/dear-ann-bobbie-ann-mason?variant=33011860570146
Dear Ann
Ann Workman is smart but naïve, a misfit who's traveled from rural Kentucky to graduate school in the transformative years of the late 1960s. While Ann fervently seeks higher learning, she wants what all girls yearn for—a boyfriend. But not any boy. She wants the "Real Thing," to be in love with someone who loves her equally.
Then Jimmy appears, as if by magic. Although he comes from a very different place, upper-middle class suburban Chicago, he is a misfit too, a rebel who rejects his upbringing and questions everything. Ann and Jimmy bond through music and literature and their own quirkiness, diving headfirst into what seems to be a perfect relationship. But with the Vietnam War looming and the country in turmoil, their future is uncertain.
Many years later, Ann recalls this time of innocence—and her own obsession with Jimmy—as she faces another life crisis. Seeking escape from her problems, she tries to imagine where she might be if she had chosen differently all those years ago. What if she had gone to Stanford University, as her mentor had urged, instead of a small school on the East Coast? Would she have been caught up in the Summer of Love and its subsequent dark turns? Or would her own good sense have saved her from disaster?
Beautifully written and expertly told, Dear Ann is the wrenching story of one woman's life and the choices she has made. Bobbie Ann Mason captures at once the excitement of youth and the nostalgia of age, and how consideration of the road not taken—the interplay of memory and imagination—can illuminate, and perhaps overtake, our present.
--from the book jacket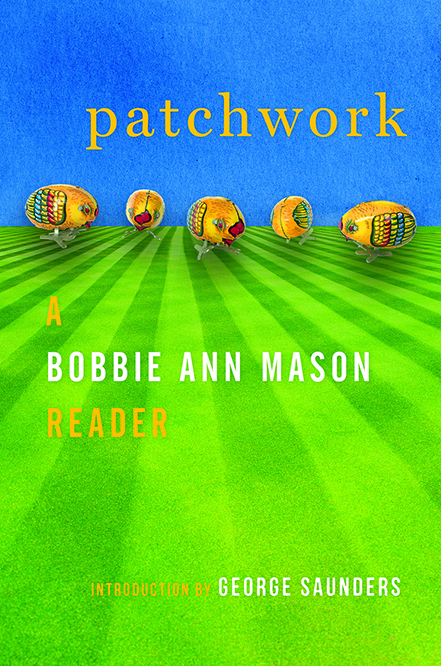 This reader collects outstanding examples of Mason's award-winning work from throughout her writing career and provides a unique look at the development of one of the country's finest writers. Patchwork contains short stories first published in the New Yorker and other leading periodicals; chapters from Mason's acclaimed novels, including In Country, An Atomic Romance, and The Girl in the Blue Beret; and riveting excerpts from Mason's eclectic nonfiction. Some examples of Mason's recent explorations in flash fiction appear here in print for the first time.
---------------
Mason's writing glows with a nuanced understanding of the struggles and pathos of American life in the twentieth and twenty-first centuries. George Saunders writes in his introduction, "Bobbie Ann Mason is a strange and beautiful writer. . . . Her stories exist to gently touch on, and praise, even mourn, what it feels like to be alive in this moment." Patchwork conveys Mason's extraordinary talent and range as a writer.Bobbie Ann Mason writes with a pure, original voice from the heartland about all of us beyond any borders of state or nationality, gender or politics. Her work has always been from the heart—true, insightful and honest. She's a star in America's literary sky. -- James Grady, recipient of France's Grand Prix du Roman Noir, Italy's Raymond Chandler medal, and Japan's Baku Misu award for literature

What an astonishing writer! And here is a generous rattlebag, a quilt of her best materials—from American classic short stories to novel extracts to the quick punchy hits of her flash fictions and some of her luminous essays in the bargain. Throughout, Bobbie Ann Mason is fun but never dizzy, full of instruction but never pedantic, frisky but never trivial, important but never ponderous. She is master of the sentence and its best music and understands in her very soul how to (stealthily, quietly) keep her reader spellbound. She is the rarest sort of disciplined writer, possessed of an intuition for the art of sorting out the telling incident, the perfect line of dialogue, the signal impulse in a character's life, or in her own, and excluding the dross. With Wendell Berry and Robert Penn Warren she is one of Kentucky's greatest literary artists, meaning she is one of the world's greatest, nothing less. -- James Robison, author of The Illustrator

Bobbie Ann Mason is an American master, an American original, and a (sly) American treasure. Funny, as sleuth-smart as Flannery O'Connor, and as Southern, Mason is also courageously godless. Her work is utterly contemporary in its deadpan attunement to the far off tremors of that apocalypse bumbling toward us. These moments of grace in the aisles of a big box store or among the graves at Shiloh, she reminds us, are more than enough to memorialize our nation, forever. -- Jayne Anne Phillips, author of Quiet Dell

What a treat, to have this book. In all ways, Bobbie Ann Mason is generous—as readers will understand when reading this book. She's so observant and funny, and her characters so human. I took particular delight in some of the very short pieces, which I didn't know, and in re-reading my favorites. She's one of our very best writers, and this book is such a very good idea. -- Ann Beattie, author of The Accomplished Guest

With Patchwork, fans including me have a rare opportunity in the literary world: to savor a body of work as a whole in one volume and to learn from the author herself about the wellspring of her writing life. Here we find an overview, an essence, of her pithy, sparkling, often funny stories, her lovely reminiscences of life in rural western Kentucky, her literary essays and interviews, her hilarious New Yorker riffs on subjects as different as sheep in New Zealand to a Picasso exhibition at New York's Museum of Modern Art to President Clinton's phrase "Adam's off ox." If you're wondering about this writer's range, consider her pivot from Vladimir Nabokov to Mark Twain to Elvis Presley. As a kind of provisional summing up, Patchwork is an indispensable addition to any shelf of her novels and stories. Enjoy the delicious feast. -- James Reston, author of A Rift in the Earth: Art, Memory, and the Fight for a Vietnam War Memorial

To find the genius of Bobbie Ann Mason gathered in one big volume is a true delight. There's no writer I am happier to read in huge gulps like this, where I can clearly see the powerful combination of purity (in her spare, clean narrative voice) and mystery (in the surprising complexity of the lives she lets us in on). Patchwork is a treasure. -- Josephine Humphreys, author of Nowhere Else on Earth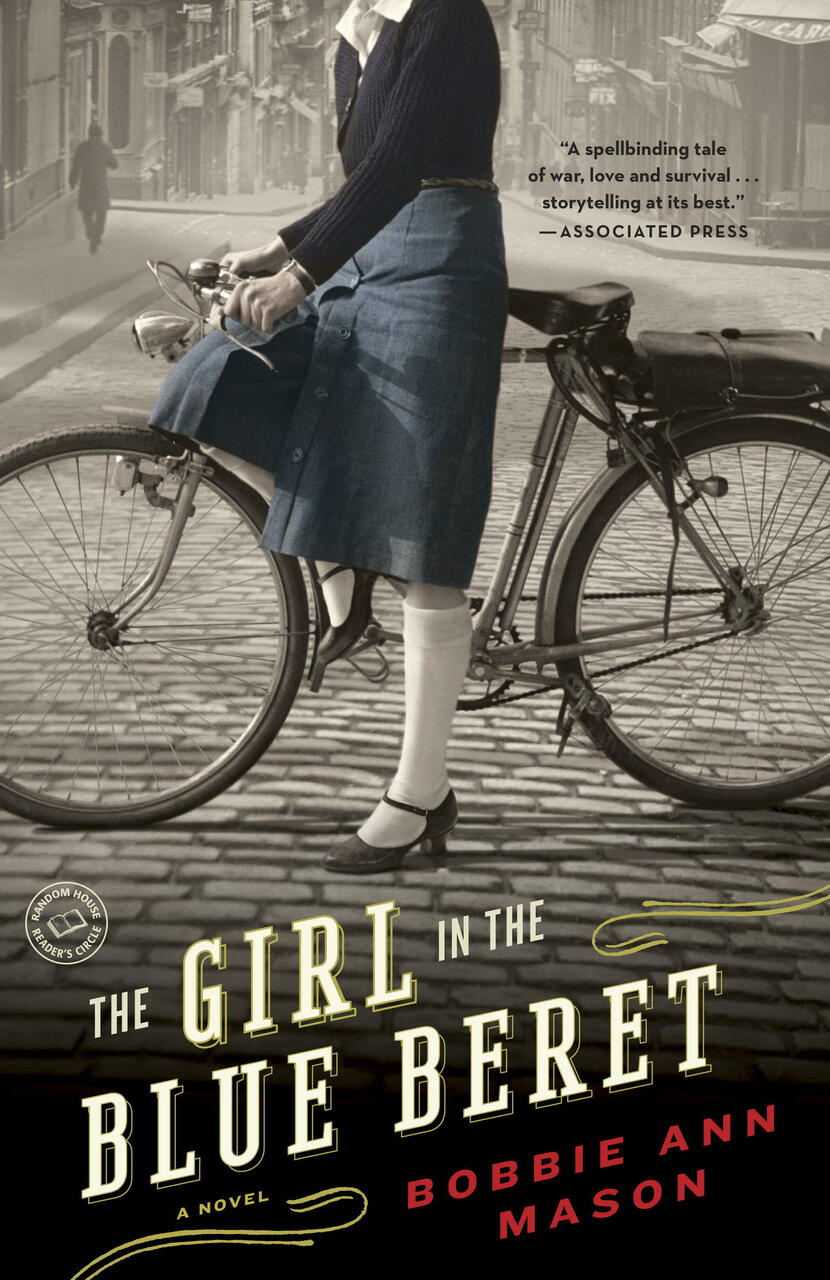 The paperback of "The Girl in the Blue Beret" is still available in stores and online. Order online by clicking the title in the left column. Go to the Blue Beret tab to read more about the book (and see photos of friends in berets)..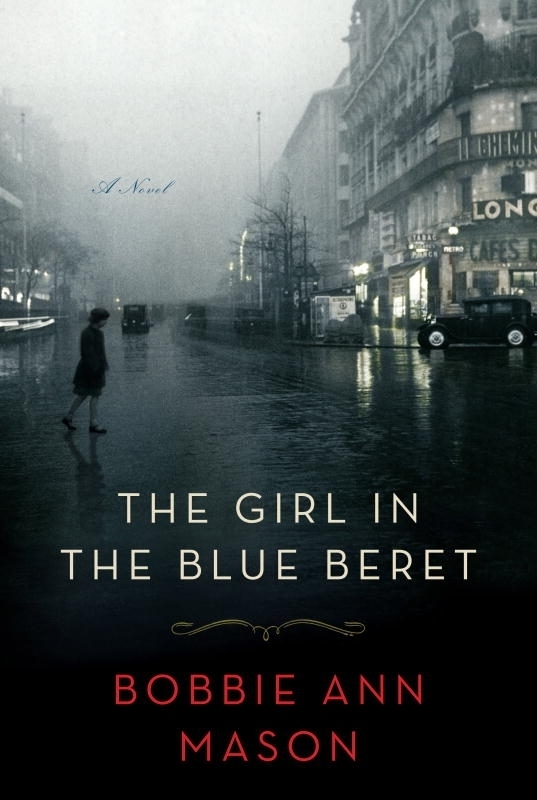 An airline pilot returns to the site of his 1944 B-17 crash in Europe and finds himself drawn back in time, retracing the trail of his escape through Occupied France and trying to find again the girl guide who led him to safe shelter--the girl in the blue beret.
PRAISE FOR THE GIRL IN THE BLUE BERET
"Ushering her readers back and forth across the decades, [Bobbie Ann Mason] perfectly weaves history with fiction. . . . In many ways, the book is a tribute to these unsung civilians whose heroism often was never acknowledged by those they helped. . . . [A] near- perfect war story."
—USA Today

"[This book] will send you dashing to the shelves to devour every- thing else [Mason's] ever written—it's that good. . . . A spellbinding tale of war, love and survival [that] alternates seamlessly between World War II and modern Europe . . . Mason's writing is exquisite. Not a single word is wasted or out of place, and she never drifts toward sentimentality. . . . Not only a remarkable work of historical fiction, it's also storytelling at its best." —Associated Press
"Mason's lovely tale . . . will resonate for many."
—Good Housekeeping

"Mason has given us a portrait of a man from a generation whose members were uncertain about the protocols of letting oneself feel. And she has lovingly captured the tone of bluff assertion still shared by veterans of that war. . . . The Girl in the Blue Beret is a work of remarkable empathy."
—The New York Times Book Review

"Bobbie Ann Mason has long been considered one of the finest writ- ers of regional fiction—Kentucky is her home and inspiration—but her affecting new novel takes place in France, and she's just as comfortable and insightful there. . . . A story that's luxuriously contemplative, sustained by the depth of Mason's sympathy . . . What a stirring tribute to the Resistance this novel is. . . . Once again, Mason has plumbed the moral dimensions of national conflict in the lives of individual participants and produced a deeply moving, relevant novel."
—The Washington Post

"Bobbie Ann Mason raises bracing questions about the subjectivity of memory and history [and] nimbly navigates between the stirring past and the suspenseful present."
—The Boston Globe

"A compelling tale . . . a page-turner, filled with sudden reverses and narrow escapes. It is also an act of remembrance and a tribute."
—AARP

"A richly told tale that gives its main character a chance to relearn what it means to be a hero."
—The Christian Science Monitor

"Renowned American author [Mason] based this haunting novel on her late father-in-law's wartime experiences, and the rich setting, detail, and intimate character nuances ring true. . . . Highly recommended."
—Library Journal

"[Conveys], in heartbreaking detail, the suffering of the Parisians and the high cost they paid for freedom. In her fifth novel, the talented Mason offers an emotionally powerful story of the ruinous effects of war."
—Booklist

"A fabulous tale . . . Mason's subtle, gorgeous prose keeps us capti- vated. . . . You occasionally pause to marvel at how real her fictional world seems. . . . Mason can say quite a bit about America just by telling one man's tale."
—BookPage

"[An] impressive, impassioned new novel . . . The unforgettable story [is] a gripping tale of redemption. . . . Spellbinding and emotional . . . richly crafted."
—The Miami Herald

"This is a book about then and now, told both in the present and in the past through memories, flashbacks and anecdotes related by characters. This sort of dual timeline has rarely been done as well as Mason does it here. The structure of this book is flawless. . . . It's a masterful achievement. . . . Mason's writing is, as always, rendered in the clear, smooth voice of a natural storyteller. . . . Just another one of the pleasures of reading this very high quality literary work."
—Baton Rouge Advocate

"Mason writes with empathy and rich language, transforming what might have been a midlife crisis into a middle-aged re-evaluation of life that is full of promise for the future."
—Sacramento News & Review
"Mason's storytelling manages to juggle two contrasting realities, to rich effect. . . . Mason leads us skillfully from the young, would-be hotshot, who doesn't look back, to the shut-down older man. . . . She treats her characters kindly, even if time and the world have not."
—The Philadelphia Inquirer

"Ms. Mason has crafted a novel of reconciliation with the past. . . . The Girl in the Blue Beret is a work not to be missed; its audience is universal."
—The Washington Times

"Richly detailed and insightful . . . [Mason's] work is never what it simply appears to be on the surface. . . . The subtle intricacies begin way below the visible layer. . . . The Girl in the Blue Beret draws the reader in. . . . So compelling that you might find yourself wishing it had gone on for another hundred pages."
—The Broadkill Review

"Well worth reading, exposing a subject that stresses the goodness of humanity, of man serving his fellow man despite chilling con- sequences."
—Washington Missourian

"There's something for everyone in The Girl in the Blue Beret. It's part mystery, part quest, part love story, and part nostalgia trip. All the parts are powerful and contribute to an even superior whole."
—The Manhattan Mercury

"Mason tells the story of a group often overlooked: the French Resistance. . . . The book feels very real. . . . Not everyone re- members things identically, not every hero is perfect, not everyone enjoyed a 'happily ever after.' . . . A must-read for World War II enthusiasts."
—San Francisco Book Review

"Bobbie Ann Mason just keeps outdistancing herself. The Girl in the Blue Beret has everything: adventure, intrigue, fear, sorrow, nostalgic ache, regret, romance, and most importantly, love. She writes of the platonic love of one's fellow travelers, along with romantic love—and what a beautiful love story it is, told with grace and elegance from the point of view of a narrator you won't soon forget. I loved this book, and so will you."
—Richard Bausch, author of Something is Out There and Peace; winner of the PEN/ Malamud Award for Short Fiction

"A flight through the gripping, war-ravaged past and the discovery of love—Bobbie Ann Mason's moving novel is written with great clarity and insight."
—Kim Edwards, author of The Memory Keeper's Daughter and The Lake of Dreams

"An elegant and eventually lovely story of war, need and apprehension."
—Roy Blount Jr., author of Alphabetter Juice and Long Time Leaving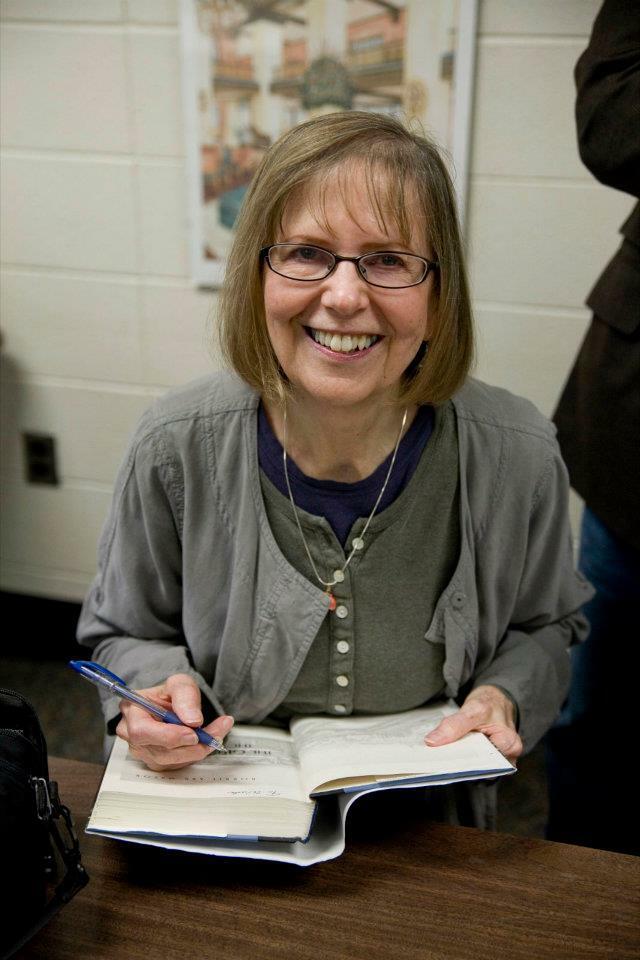 "Mason's lovely tale... will resonate for many."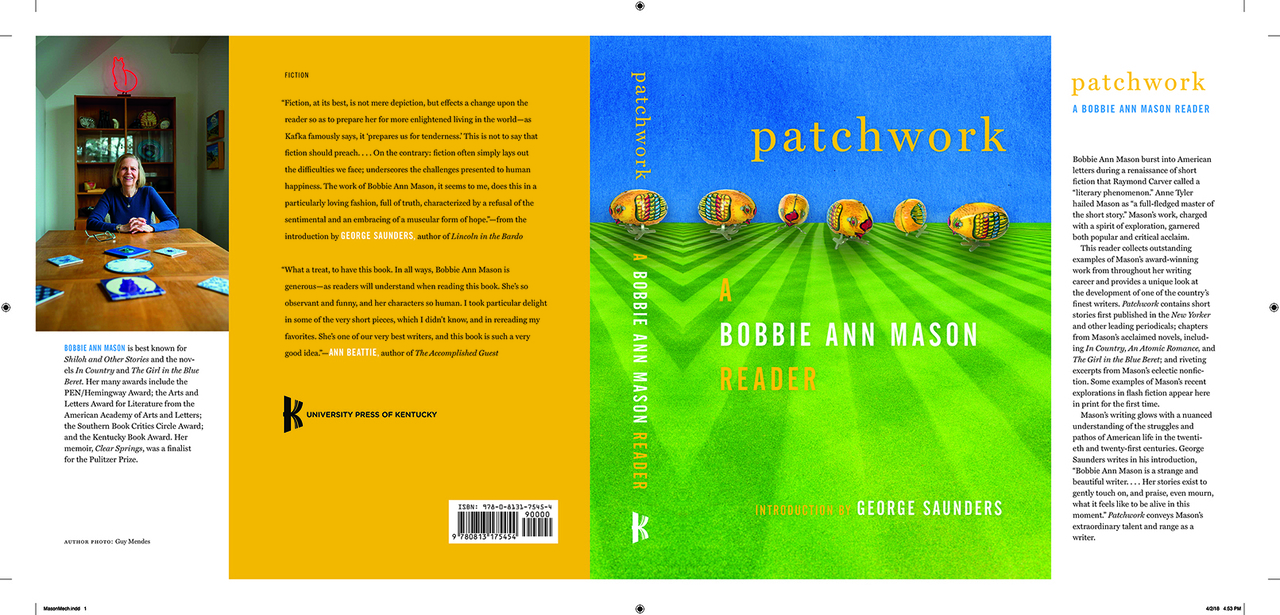 "Patchwork: A Bobbie Ann Mason Reader" is coming in June from the University Press of Kentucky.
Visit Facebook Fan Page
Facebook
Bobbie Ann Mason